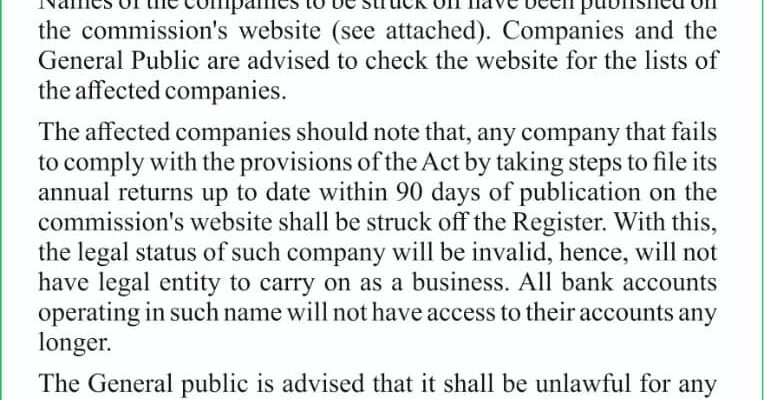 CAC Plan to De-Register Companies.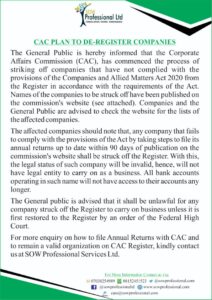 The General Public is hereby informed that the Corporate Affairs Commission (CAC), has commences the process of striking off companies that have not complied with the provisions of the Companies and Allied Matters Act 2020 from the Register in accordance with the requirements of the Act. Names of the companies to be struck off have been published on the commission's website (see attached). Companies and the General Public are advised to check the website for the lists of the affected companies.
The affected companies should note that, any company that fails to comply with the provisions of the Act by taking steps to file its annual returns up to date within 90 days of publication on the commission's website shall be struck off the Register. With this, the legal status of such company will be invalid, hence, will not have legal entity to carry on as a business. All bank accounts operating in such name will not have access to their accounts any longer.
The General public is advised that it shall be unlawful for any company struck off the Register to carry on business unless it is first restored to the Register by an order of the Federal High Court.
For more enquiry on how to file Annual Returns with CAC and to remain a valid organization on CAC Register, kindly contact us at SOW Professional Services Ltd.
Website: www.sowprofessional.com
Phone: 07038254989
WhatsApp: 08152451523