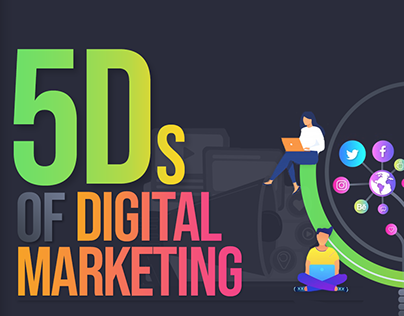 5 Ds of Digital Marketing
5 Ds of Digital Marketing for Business Development
Marketing is a vital process for entrepreneurs, because no venture can become established and grow without a customer market. The process of acquiring and retaining customers is at the core of marketing.
Entrepreneurs must create the offer (design the product and set the price), take the offer to the market (through distribution), and, at the same time, tell the market about the offer (communications).
These activities define the famous Four Ps of marketing: Product, Price, Place (distribution), and Promotion (communication).
Entrepreneurs often are faced with designing the entire "marketing system"—from product and price to distribution and communication. Because it is difficult and expensive to bring new products and services to market, especially difficult for new companies and Small Medium Enterprises, they need to be more resourceful in their marketing.
An important part of gaining the market's acceptance is building brand awareness, which, depending on the stage of the venture, may be weak or even nonexistent. Entrepreneurs must differentiate their company's product or service so its distinctiveness and value are clear to the customer. This is the job of marketing.
Marketing also plays a central role in a venture's early growth stages when changes to the original business model may be necessary. Companies focused on growth must be able to switch marketing among available medium of marketing such as Traditional Marketing, Outbound Marketing, Inbound Marketing and Digital Marketing.
For the purpose of this article, our focus is on Digital Marketing, hence, it is important for entrepreneurs or those charged with the responsibility to understand the framework of Digital Marketing. This will not only guide the users on the implementation of Digital Marketing strategy, but, will also ensure full appreciation of what is responsible for the success or failure of such strategy.
Digital Marketing
Digital marketing is the opposite of traditional marketing, leveraging technology that does not exist traditionally to reach audiences in new ways. It is a form of marketing that uses any digital channel or platform to create and exchange value with a target audience. Digital marketing includes managing different forms of online company presence and presences such as Company websites, Mobile apps and Social media company pages. This is in conjunction with online communications techniques which include Search Engine Marketing, Social Media Marketing, Online Advertising, E-Mail Marketing and Partnership Arrangements with other Websites. Businesses leverage on these digital channels, to connect with current and prospective customers.
5 Ds of Digital Transformation
Digital marketing revolves around these 5Ds: Digital Devices, Digital Platforms, Digital Media, Digital Data, And Digital Technology.  The 5Ds facilitate efficient interaction between the brand and its target audience, as well as provide insights into market behavior for better business strategy formulation and implementation.
DIGITAL DEVICES – Devices including smartphones, tablets, desktop computers, TVs and gaming devices.
DIGITAL PLATFORMS – most interactions on these devices are through a browser or apps from the major platforms or services, that's Facebook (and Instagram), Google (and YouTube), Twitter and LinkedIn.
DIGITAL MEDIA – Different paid, owned and earned communications channels for reaching and engaging audiences including advertising, email and messaging, search engines and social networks
DIGITAL DATA – The insight businesses collect about their audience profiles and their interactions with businesses,
DIGITAL TECHNOLOGY – The marketing technology or martech stack that businesses use to create interactive experiences from websites and mobile apps to in-store kiosks and email campaigns.
Understanding the importance of these 5 Ds of Digital Marketing and its implementation in Digital Marketing strategy is key to the potential success expected for adopting digital medium as a means for business development.
To know more about how to use digital transformation to develop your business, kindly contact us at :
E-mail: care@sowprofessional.com   
Website:     www.sowprofessional.com                                                                                       
 Phone:        07038254989                                                                                                                                 
Whatsapp: 07038254989