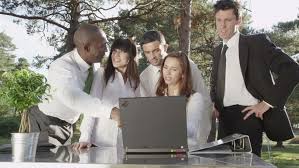 8 Tips to Transform Your Small Business into a Corporation
While it is very good and encouraging to start small, staying small without expansion is a threat to the going concern of such organization. The following tips and many others coming in this series will definitely help to ensure the going concern and transition from one man business to a corporation:
Vision Statement must be reviewed A mission statement is intended to clarify the "what" and "who" of a 
company
, while a 
vision
 statement adds the "why" and "how" as well. As a 
company
grows, its objectives and goals may change. Therefore, 
vision
 statements should be revised as needed to reflect the changing 
business
 culture as goals are met, new ones must be developed to optimize the potentials of such business New knowledge should be acquired The world is fast changing, so also our business environment and other fundamentals are responding to meet up with the changes in the world. It is indeed antithetical to use old instrument or tools to repair new machines, one man business promoters must identify new tools to manage new challenges and opportunities that abounds in the new order. Tools as social media and others,  must appropriately be engaged to drive our sales, marketing , research and analysis to identify areas where necessary improvement could be made to improve and move our businesses to the next level Choose a business mentor
But only a business mentor can truly share wisdom with you on an ongoing basis—in a manner that can have a directly positive impact on the growth of your business over time. The generic business advice you'll get from online publications will only go so far, and a good business mentor picks up right where that leaves off. A business mentor is someone or organisation with more entrepreneurial business experience than you, who serves as a trusted confidante over an extended period of time, usually free of charge. Does this sound a little too good to be true? Well, first and foremost, being a business mentor to an up-and-coming entrepreneur is a great way of giving back to their community, and to society at large when their advice and guidance can have a measurable impact helping their mentees. Implement Corporate Governance ethics "Corporate governance" is the term used to refer to the policies and processes by which a corporation is controlled and directed. It refers especially to the way power and accountability flow between shareholders, boards of directors, CEOs, and senior managers. To become big, owners of small business, must separate themselves from the organization, by engaging more stakeholders, who will contribute more resources (both capital and human) into the organisation Customercentric The customer is firmly in the driving seat and with it, comes a required change in how you build and nurture relationships with potential and existing customers. Companies that put the customer at the heart of their organization are experiencing an increase in customer lifetime value and a reduction in mix. Becoming a truly customer centric organization takes time, but you can start of all small. Customer centric is a way of doing business with your customer in a way that provides a positive customer experience before and after the sale in order to drive repeat business, customer loyalty and profits. Divestment Analyze new opportunities in your business by understanding your demographic better. Understand everything from distribution channels to your direct competitors, and even an analysis of foreign markets and other potential industries. There are likely dozens of new opportunities you could pursue immediately with the proper amount of research, brainstorming and analysis. Seek new revenue lane and pursue it. About the Author: Samuel Omofojoye is the Director, Policy & Operations,
SOW Professional Services Ltd
– a Tax, Financial & Management Consulting Firm in Nigeria. Omofojoye is a leading expert on internal control system and corporate governance best practices in Nigeria and West Africa sub region. He is A Fellow of Institute of Management Consultant, an advocate of responsible governance and a member of the International Centre for Tax Research and Development. Omofojoye has been honored for his work in promoting compliance culture and awareness in the West Africa region.