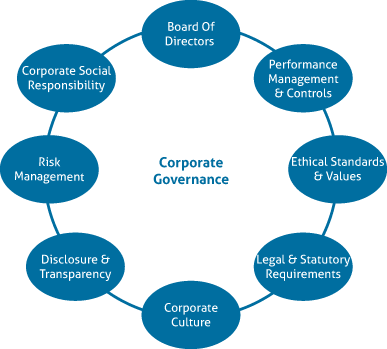 Importance of Entrenching Corporate Culture
Importance of Entrenching Corporate Culture in an Organisation
The institution committed to the development and promotion of corporate governance, Society for Corporate Governance Nigeria (SCGN),  held its 2018 annual conference with the theme: 'Towards Sustainable Development: the Role of the Nigerian Code of Corporate Governance'. 

At the conference, the corporate governance code was the subject of discussion, with all the speakers emphasizing on its importance in entrenching a corporate culture. It is designed to help corporate entities succeed. 

The code, which was initially voluntary for companies to comply with, became mandatory after the financial crisis in 2011. With the purpose of serving  as a national benchmark, the code goes beyond listed companies; it expands to include the private sectors. It also recognizes other sectors existing codes and device ways for them to be applied for the greater good. 

The Institute tries to bring together, different strategies and efforts already in existence towards achieving an outcome. Mr. Adedotun Sulaiman, keynote speaker, who was represented by Mr. Daniel, said that with the national code providing a new yardstick and a common language, the CBN will subsequently be able to better communicate with its stakeholders.

In his speech,  Dr. Christopher Kolade, CON, Founding President of SCGN, emphasised the need for sustainable development, "which is why corporate governance will not only cater for today's need but for the future."  He said the key to good governance is aligning self-interest with organisational interest to achieving a collective goal.

According to Ahmad, "the code is adopting the apply or explain approach, which gives corporate entities opportunity of deciding for themselves, if they will adhere to these codes, thereby imbibing in them a sense of corporate behaviour." He further stated that the code of corporate governance reduces regulatory burdens and also the conflicts that come with numerous regulatory bodies.

As a means of ensuring there are people who are committed to doing the right. He said, "the state has an apex responsibility for establishing the incentive culture of any market, because they are going to determine to who gets political recognition, eventually they will influence what gets embedded in the society."
   
Ahmad also insists, that, the state has to show that no one in the corporate market is above these codes. His words: "The corporate governance framework is best when you have a competent state that is able to monitor, spot and sanction."He stressed the need for regulators to be functional and competent.
The Conference stressed the need for individuals to be committed, to take action individually no matter how little we think the influence might be, let us give greater attention to targeted training."