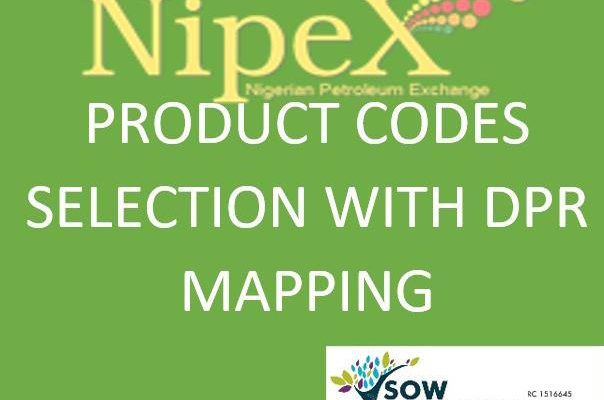 NipeX Product Code Selection
NipeX Product Code Selection/DPR Mapping
For ease of administration and understanding, products and services available in the Oil & as Industry in Nigeria are classified or categorize into respective coding.
This coding were as agreed by he major stakeholders in the Industry, which are NipeX (the Regulator) and the International Oil & Gas Companies (Operators)
It is very important for players in the Industry to understand how this Product Codes relates to the products/services you wish to render or supply in the industry, before registering with NipeX or DPR. So, in order not to obtain a wrong licence from DPR,that may not work with NipeX, it is imperative to confirm the category with NipeX, before commencing registration with DPR.
With the rigorous process involve in registering with NipeX, DPR and those Agency of Government involve in the Oil & Gas Industry, failure to choose the right Product Codes for registration purpose at the beginning may be devastating and laborious, hence, the emphasis on knowing and choosing the right Product Codes.
In order to get full knowledge about Product/Service Codes Selection and  Appropriate DPR Permits, kindly download attached, to see the Revised Product/ Service Codes for NipeX as issued by the Agency.Download now NipeX Product Codes
We would be glad to assist you in processing your NipeX Product Code Selection, DPR Mapping, NipeX, NCDMB-NOGIC, NCEC and other related Registration in the Oil & Gas.
Book a free advisory session with us today.
To know more about  Business & Management Consultancy, kindly contact us at :
E-mail:         care@sowprofessional.com                                                                                                           Website:     www.sowprofessional.com                                                                                                         Phone:        07038254989                                                                                                                                  Whassapp: 07038254989